Everyone agrees that Google is the biggest search engine in the world, and it looks like the things won't change in the near future. And Google dominates the search engine market for a simple reason: its search results are accurate most of the time, being tailored to the searchers' specific needs.
Nevertheless, since more and more websites are being launched on the internet on a daily basis, Google has to deal with an increasing amount of new data, so it will offer more and more results for a particular topic. This gives us (the searchers) the possibility to have access to more search results, but the reality is that having too many choices can be troubling.
Sometimes you will need to filter the results quite a bit, in order to find a certain image type. Let us assume that you are interested in surfing and you'd like to write an article about this particular water sport, including a funny looking picture. The first step would be to type "surfing" in Google's search box, and then to click the "Images" button from the top menu.
This will display a list with the "surfing" images that are stored in Google's database.
Finding Images That Have a Predominant Color
OK, we have gotten some good results here, but they aren't exactly what we are looking for. Fortunately, Google allows us to search for images that have a predominant color. Click the "Search tools" button from the top menu, and then choose the desired color; I have chosen blue for my example.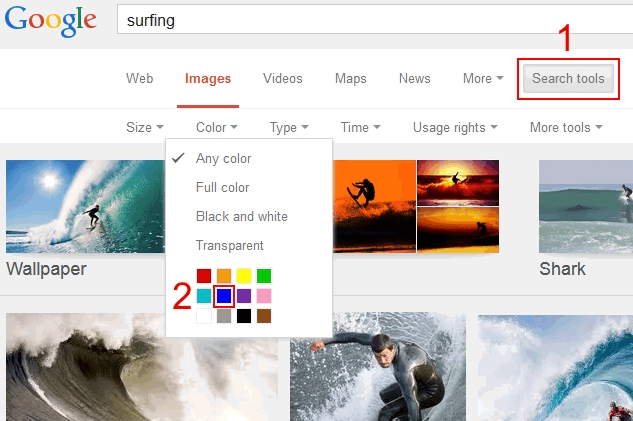 Take a look at the picture below; you will see that Google displays all sorts of surfing-related images that have a predominant blue color now.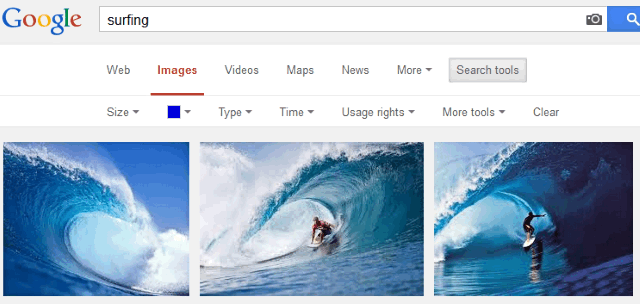 Nevertheless, these blue images aren't exactly what we need; we are interested in getting funny looking surfing pictures. The option that allows us to do that is located in the "Search tools" menu as well; click the "Type" menu button, and then choose "Clip art"; you will see a list with several funny cliparts.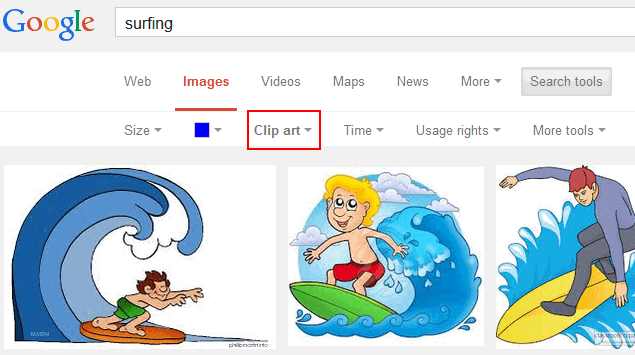 Discovering Properly Sized Images
I would say that these images are pretty good – wouldn't you? We only need to pick a properly sized image now; the ones that have a small resolution would look too bad. Fortunately, there's an option that allows us to separate the big sized images from the tiny ones; select the "Size -> Large" menu option and you will get a set of results that only includes big images.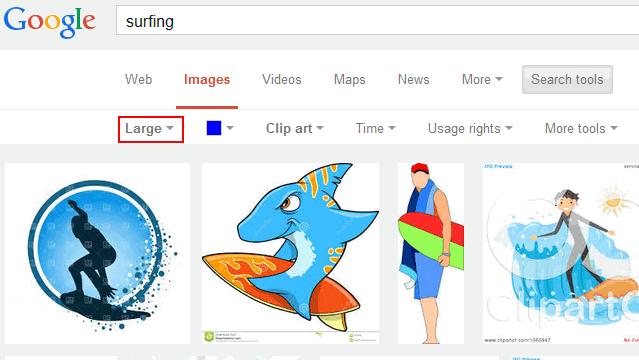 Using Royalty-Free Images
What about royalty-free images? Most pictures can be used for personal purposes, but if you intend to share them with others or to include them in projects / products that you intend to sell, you'll have to make sure that you aren't breaking the law. Simply click the "Usage rights" menu button, and then select the desired option; the search results will be filtered accordingly.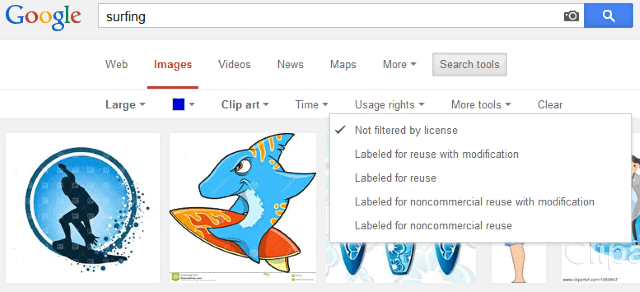 Resetting the Filters
But what happens if you have made a mistake and want to try another set of filters? Maybe your image search hasn't produced any relevant results, so you'd like to start over. If this is the case, you can remove all the filters (Google calls them "Tools") by clicking the "Clear" menu button. Please note that this button will only be visible when there's actually something to clear, though.
Finding Diagrams and Graphs
Some of you might have noticed the "Black and white" option in the "Color" menu; it's the perfect option to use whenever you are looking for old black and white pictures, for diagrams, graphs, and so on.
Let's pretend that I intend to open a restaurant; I won't do this in the near future, so please don't make any reservations yet ;). However, I would like to know how to set up the restaurant tables in order to use the space properly, and thus maximize my profit.
A regular Google images search for "restaurant tables" will give me a set of results that aren't of great interest for me, because I would only need diagrams. And since most diagrams use the black and white colors, let's choose "Black and white" from the "Color" menu; this will increase our chances to stumble upon something useful.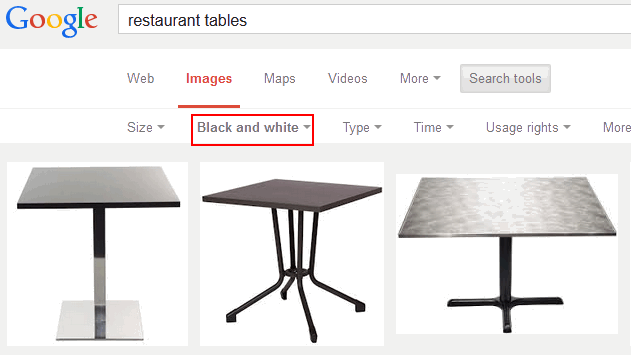 Scroll down until you see a diagram, and then click it, drag it and drop it to the top of the page; Google will display several visually similar images (diagrams, in this case).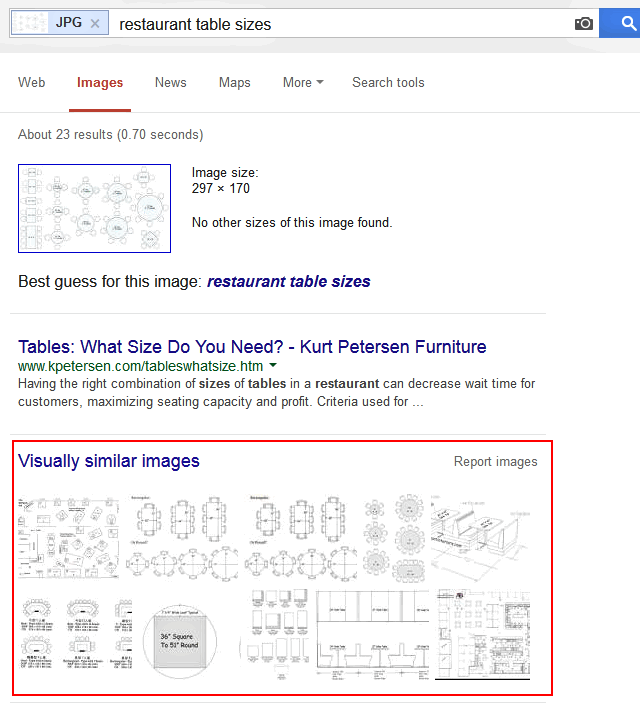 Pro Tip: If you plan to buy SEO services or any type of online marketing services, you should Google the company's domain name, and then click "Images" to browse through their images. Apply the drag and drop method described above to check if there are real people behind their pictures, or if they are pretending to be someone else by using stock images that can be found elsewhere on the web.
Finding Visually Similar Images and Conclusion
This wraps up the Google image tips and tricks guide; I'd like to give you an extra tip before ending it, though. Sometimes you will need to discover images that are visually similar with the ones that interest you, and maybe even find a much better quality / resolution version of a particular image. To solve this (apparently) complex problem, point your browser to the Google Images search page if you aren't there already: http://images.google.com/
Click the small camera picture on the right side of the screen, and then paste the URL of the image that interests you, or simply upload it from your computer. The camera icon is always visible if you are within Google's image search tool, of course.
Just give me a few seconds to find and upload a nice picture… done!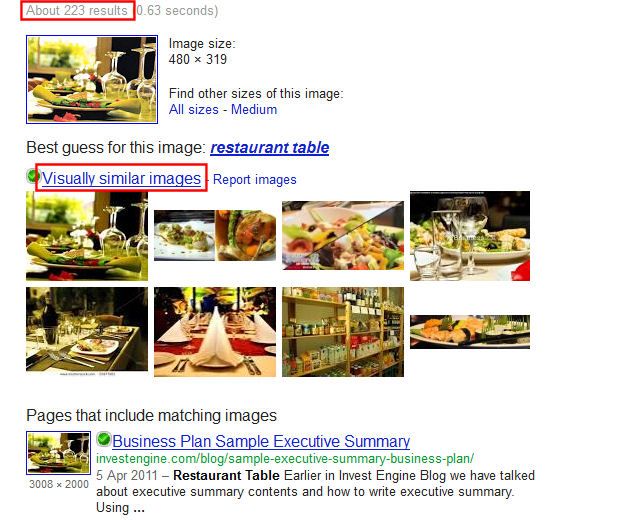 As you can see, Google will return a list with all the search results that contain identical or visually similar images; this will allow you to find higher resolution versions of a particular image as well. Not only that, but Google will also try and guess what this image is about, and I would say that "restaurant table" describes my picture quite well.
Google's visually similar images search feature is often times used by online reputation management services companies. When something goes wrong and your client's picture is spread all over the net, you want to know all the sites where it was published, so that you can clean up the mess as quickly as possible.
Back to our article topic: don't forget to explore the "Time" menu option as well; it allows you to see the images that were discovered by Google within the last 24 hours, during the past week or the specified interval.
Armed with all this information, I am sure that you are going to become an advanced Google image searcher in no time, being able to properly filter the search results and get the desired images fast.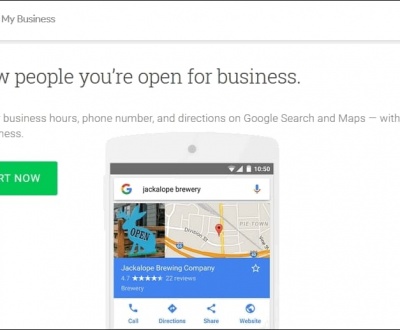 Google uses a different algorithm to rank sites in its local search results, but it started to incorporate several standard…