Welcome! My name is George Dan Pirvu and I am the CEO of Randombyte, a small team of highly trained search engine optimization consultants that offer SEO services, online reputation management services, pay per click management, free information and free tools for the business owners that want to increase their online and offline sales / visibility.
Unlike most internet marketing companies, we focus on creating products and information that provide real value, no matter if we are talking about writing high quality, well researched articles for your blog, creating an ebook that can be given away in order to attract leads or developing a software application that is bound to attract lots of potential customers.
Even though investing time and energy into internet marketing is a rewarding endeavor, the process has become very complex during the last few years. Many companies run pay per click (PPC) campaigns, SEO campaigns, online reputation management campaigns, social media campaigns, etc at the same time. Under these circumstances, it makes a lot of sense to use the services offered by a specialized company, instead of trying to take care of the online promotion by yourself.

Google is the most important search engine in the world, so our search engine optimization and online reputation management efforts are targeting Google in the first place. Nevertheless, the same internet marketing methods that we are using also help our clients' websites get great ranks in all the important search engines, like Yahoo and Bing. Take a look at the picture and you will see the ranking table for one of our clients – a famous car rental company.
Our goal is to send highly targeted, buying visitors to your website, people that are interested in purchasing what you are selling. Each one of the internet marketing services offered by us has its own advantages, no matter if we are discussing about SEO services, PPC management, social media campaigns, and so on.
Nevertheless, these services can overlap quite often; a viral blog post that was created for SEO purposes will also spread like fire through social media marketing (SMM), especially if you have lots of Facebook friends, Twitter followers, and so on. Check out the Buy SEO Services page to learn more about the 100% ethical SEO methods that we are using in order to promote our clients' websites.
Few business owners know this, but their websites can often be turned into fantastic sales machines by only tweaking a few of their tags: the title, the description, the H1 tag, and so on. This part of the optimization process is called on-page SEO and is usually a one-time task. Full website redesigns are also possible, of course, especially if you are interested in revamping an old site or if you want to add more features (maybe a shopping cart) to it, a mobile version of your website, a blog, and so on.
Speaking of blogs, creating and posting high quality content on your website on a regular basis is crucial; the search engines will always reward the websites that turn into high quality content hubs as they get more and more content pages. In fact, if you aren't prepared to invest in SEO, PPC or SMM yet, the best piece of advice that I can give is to start writing at least 2-3 great blog posts per week; if the content is great and you choose the keywords properly, you are definitely going to see a significant website traffic increase after a few months. For more information, download our free report – First Google Page Through Blogging.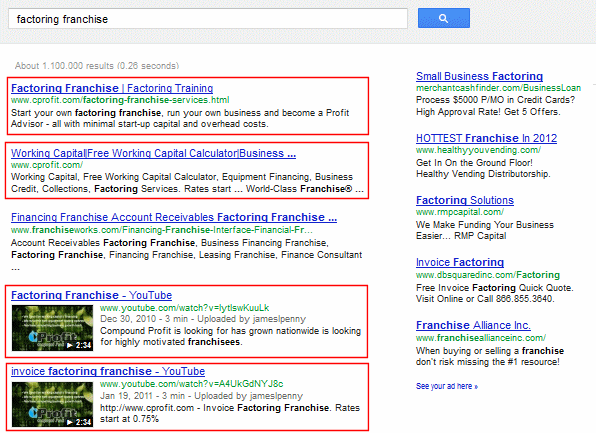 Nevertheless, by combining great content and professional SEO services you will get a much greater return on your investment; here's another example with one of our clients dominating the first Google page. The same thing happens with our SEO reputation management services; the goal is to get as many slots as possible on the first page of world's favorite search engine.
Looks too good to be true? Run a Google search and you will see the same results for yourself. Then, contact the business owner – Mr. James Penny – and ask him about the quality of the SEO services offered by our company.
Running PPC campaigns has its advantages, of course; if the campaign is set up and run properly, you will have access to qualified website traffic right away. Still, if you get this wrong, you will throw away your money on website visits coming from people that aren't actually interested in buying your products or services.
In fact, most of our clients stop paying for AdWords campaigns after they have used our SEO marketing services for a few months; the quality and quantity of website traffic that they are getting through search engine optimization is more than enough for their needs, so they are preserving their money by only investing into SEO.
I have mentioned the fact that some of the internet marketing services that we are offering also deliver great results offline; you might be interested in seeing a real-life example that very few internet marketing companies are offering at this point in time – augmented reality services.
Augmented Reality (AR) is a new technology, which is estimated to grow to over 1 billion U.S. dollars in 2014. Google already knows that and has invested in it; you might have heard about its augmented reality glasses.
But what is AR? Basically, it is an enhanced version of the reality, being obtained by adding images, sounds, videos or other data to what you are already seeing. If you've seen one of those sophisticated night vision binoculars in an action movie, you already know that it displays the distance to the target and many other parameters, even though those numbers aren't (obviously) visible in the field.
That's exactly how AR works, by adding extra layers of information which can be displayed with most modern cell phones. Take Samsung as an example: this huge company now preloads its cell phones with Layar, an AR application that can display these layers as you approach a certain area searching for a coffee shop, an electronics store, etc. And the good news doesn't stop here: there are many free AR applications (including Layar) that can be installed on the cell phones that don't include them by default.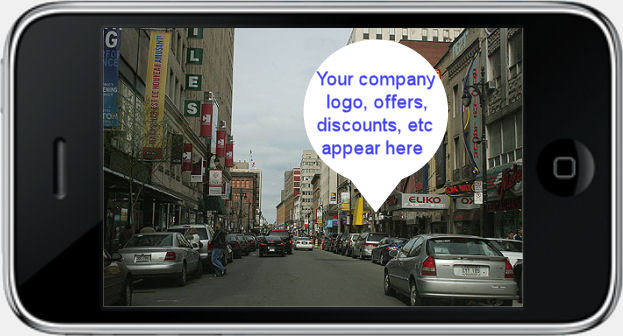 We have access to the technology that will place your company's information where you want it to appear on the street, including your logo, special offers, and so on. We are also able to develop 3D augmented reality applications that can be used to demonstrate your products' or services' features.
If you are wondering how can we offer all these services under the same roof, the answer is very simple: unlike the typical SEO / SMM company, we also have a skilled in-house programming team; this allows us to create custom, useful software applications that will help promote your business both online and offline. A few examples of our work include the GM Game, a training simulation developed for General Motors that has proven to be a success, or the light monitoring system for the Hyatt Tower in Dallas, Texas.
What marketing methods should we use in order to promote your business? It all depends on how much you want to invest into internet marketing services and how fast you would like to see the results; nevertheless, we treat our clients with the same dose of care and respect, no matter if they are paying us $500 or $10,000.
Thank you a lot for visiting our website; I really appreciate it. Don't forget to check out the free marketing tools page - we are offering several applications that can help you grow your online business for sure.