August 25, 2012
Posted by:

admin

Categories:

Lead Generation, LinkedIn, Marketing and Sales, Social Media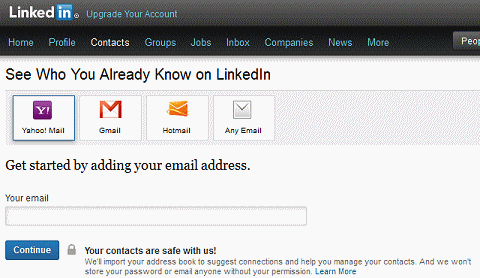 Many small business owners try to use Facebook, Twitter or Google+ in order to get more clients, but these platforms were built mainly for social interactions, and not necessarily as effective tools for selling your products or services online. Fortunately, LinkedIn is a huge network of business owners which has close to 200 millions members, most of them being highly trained professionals. Read on to discover several powerful LinkedIn profile tips that will help improve your LinkedIn business marketing efforts significantly.
Now don't get me wrong, I like Twitter and I have managed to get a few good clients by using it, but LinkedIn is much better, because it is a network of decision makers. This means that you will deal with lots of business owners that can actually decide if they want to purchase something from you or not, thus avoiding the gatekeepers. In addition to this, people like to purchase things from trustworthy businesses, and LinkedIn offers you the opportunity to get honest recommendations from individuals that have worked with you in the past.
Setting up Your LinkedIn Profile
I'm pretty sure that you already know the value offered by LinkedIn (that's why you are reading this article, after all) so let's start optimizing our profiles! First of all, head over to LinkedIn's page and open an account if you didn't do that already:
You can log into your existing profile if you have an account, of course. Now take some time and think about your main goal; maybe you are interested in positioning yourself as an expert in your industry, or perhaps you simple want to get more leads, and so on. It's important to take your time with this stage of the process, because your profile should be optimized in such a way that it serves your main goal.
Make sure to fill in all the profile data; when this happens, you will have a 100% completeness score and you will rank higher in LinkedIn's search results. These are the key areas that have a tremendous impact:
Your picture needs to look professional. Resist the temptation to upload a photo that you consider to be funny or interesting – most business owners won't like it. And I know that many people love cats, but please don't use that picture of you holding Agent X in your arms. I also know that you have got a baby and you love him / her a lot, but LinkedIn is a network of business professionals, people that are interested in seeing your professional side, and not your babies.
You would be surprised to know how many people turn down various offers and great opportunities simply because they don't like the business owner's picture, so dress appropriately, ask a friend or a relative to take some pictures of you, and then choose an image that shows a friendly, professional person (that would be you) and complements the profile info nicely.
Your "Professional Headline" field should contain keywords that are searched for by the LinkedIn users, like "Carpet Cleaners New York", etc – this will help you appear closer to the top of the search results.
I haven't told you to use your real name for your LinkedIn profile, because it's obvious that you should do that; the same thing goes for your location. Resist the temptation to put false data here, even if this means that you will lose some potential clients; the goal is to build successful, long-term business relationships with your customers, and these relationships are always based on 100% transparency and honesty.
Adding a Custom Website Link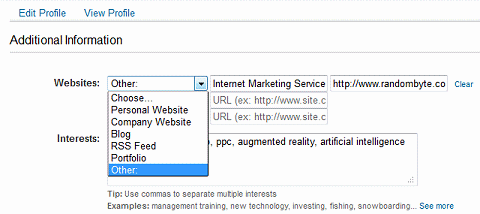 LinkedIn allows you to include up to 3 websites in your profile; make sure to add your website here if you have one. The default website title will be "Company Website", but fortunately you can change that; click the "Website" drop-down box, and then choose "Other" from the list; this will allow you to add your own keywords in a dedicated field, thus pushing you even closer to the top in LinkedIn's search results for those keywords.
You could also add your Twitter account feed, but only do that if all your tweets are professional. You wouldn't want your "Ran into a former high school mate last night. Arrived home very, very drunk", tweet to be read by your LinkedIn connections. And the sad truth is that lots of companies are making money by digging info like this and selling it to your potential employers, business partners, etc, so you need to be very careful with that.
Advanced Profile Optimization Tips
Having a well written summary is crucial because it helps the people that are viewing your profile understand what you are doing. Once again, this is not the place to be funny, but professional; don't forget to explain what you are doing properly, but use as few words as possible – most business owners have a limited amount of time at their disposal.
The "Experience" section is the place to include your previous jobs; it's a wise move to include them all, even if you are working in a completely different industry now. The reason for this is simple: some of your potential clients might work in one of those particular industry fields themselves, and this will help build your relationship with them. In fact, now that I think about it, targeting clients that work in an industry where you've been active in the past is definitely a good idea, because you have some experience in that field already.
What about your "Skills & Expertise"? Pick the skills that are relevant to your industry and the products and / or services that you intend to offer on LinkedIn. LinkedIn allows you to choose up to 50 skills; feel free to add as many as you need, but don't go overboard with it.
Filling in the "Education" and "Personal Information" Sections
Filling in the "Education" section can be quite complicated, especially if you don't have a formal education. Fortunately, you can find a workaround by including the diplomas, medals, awards (and so on) that you have gotten throughout the years. The main idea here is that even having some unrelated achievements is better than having an empty "Education" field.
How much "Personal Information" should you include? You want to be perceived as a trustworthy person, so my recommendation is to include your address, phone number and email address in the appropriate fields (the email address can be added to the "address" field). This will show your potential customers that they'll be able to reach you easily in case that they need your support in the future.
How to Get More LinkedIn connections
OK, so now we have got an optimized LinkedIn profile, but we don't have too many connections yet; fortunately, this problem can be solved easily because LinkedIn is a network of professionals that are interested in connecting with other people. Basically, you want to get your highly optimized profile in front of as many eyes as possible, thus giving the people that are interested in your services the possibility to contact you.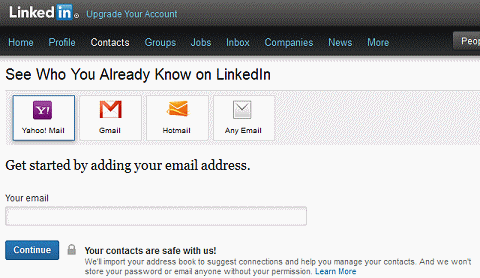 One of the most elegant ways of increasing the number of connections is to join groups, adding valuable contributions and building relationships. But since this method can take some time, if is much faster to begin the process by importing your existing email contacts into LinkedIn, as well as adding the people recommended to you by LinkedIn itself.
Select "Contacts -> Add Connections" from the menu at the top of the screen, and then add your Yahoo, Gmail, Hotmail, etc contacts.
Then, join the groups that contain your potential clients, based on their interests. But don't just join a group and then wait to see what happens! Get involved in the conversation, provide tremendous value, help others and build great business relationships. If you contribute to the most active discussions in a group on a regular basis, you will have the opportunity to be featured on the "This Week's Top Influencers" list, which will display your profile in front of all the group's members. Can you image how much exposure (and how many potential clients) you can get by becoming a Top Influencer in a group that has tens of thousands of targeted members?
Another great method that helps you build authority and connect with other professionals is to use LinkedIn's "Answers" section. Choose "More -> Answers" from the menu at the top of the screen, and then answer some questions. This is also a simple way of getting potential clients, people that have read your qualified answers and need to solve similar problems.
I hope that you are now eager to start optimizing your LinkedIn profile. Absorb all the information, and then make all these profile changes in one sitting, even if you will have to come back and refine them later. Don't stop at a 75% profile completeness, thinking that you will do the rest of the job tomorrow; it might take much longer to do that, and your potential customers will find somebody else, who has a professional looking LinkedIn profile.