February 25, 2014
Posted by:

admin

Categories:

Google Search, SEO, Website Traffic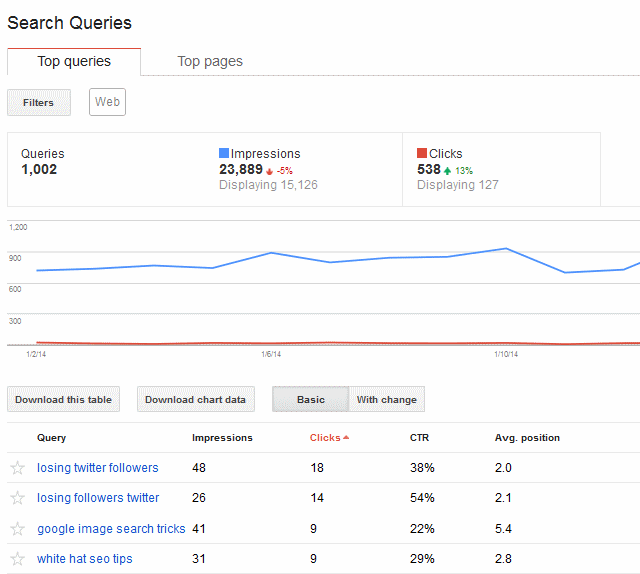 Google decided to hide the actual keywords that send visitors to our websites a while ago, but this doesn't mean that we are left completely in the dark now. If you have a Google Search Console account (it's free, so create one and add your site to it) you can still get a lot of precious information.
Log into the account using your Google / Gmail info; your website(s) should be listed there. And if all is well, you won't get any messages or errors.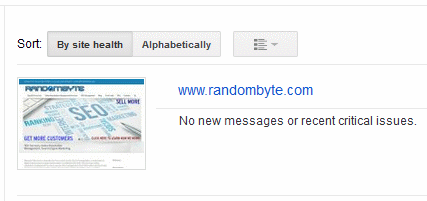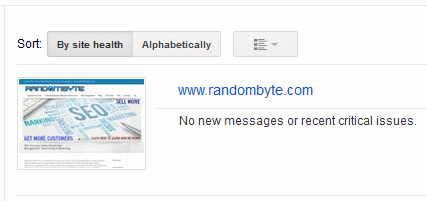 Click your website URL, and then select Search Traffic -> Search Queries from the left side menu.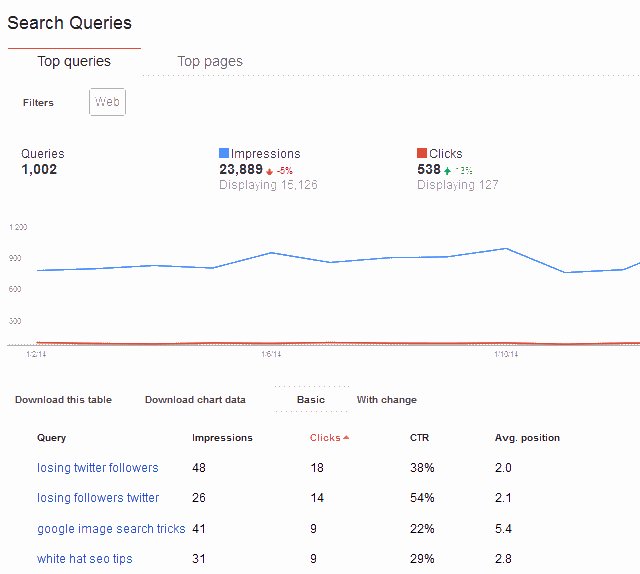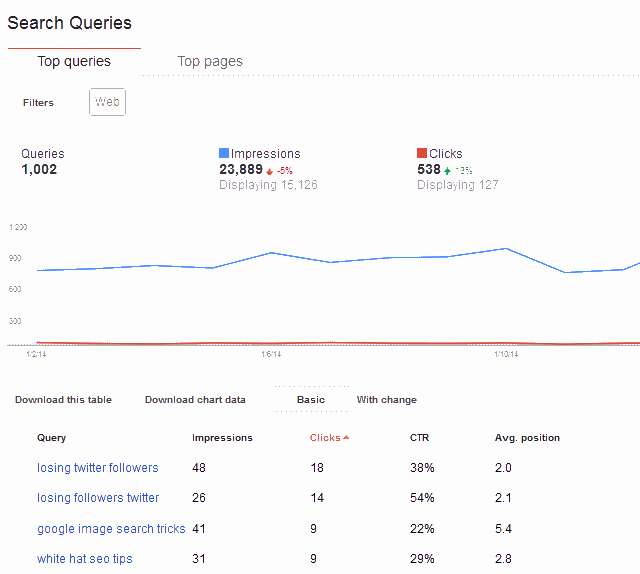 Take a good look at all the information; you can sort each column by clicking its corresponding header. Now it is very easy to determine your top ranking keywords, for example; simply click "Avg. Position" and you will sort them in descending order.
No time to celebrate, though, because one of the most important metrics is CTR (the click-through rate); it shows how many people out of 100 have clicked your website page link when Google has displayed it in its search results. Take a look at the red keyword in the screenshot below.


Think about it for a second: Google has decided that the content on this particular page is so good that it needs to get the #1 spot. Still, after displaying my website at the #1 spot for the targeted keyword, 59 people have seen it and yet nobody has clicked the website link.
You don't have to be a genius to understand that if my website doesn't get any clicks for that keyword soon, Google will move it downwards in its search results, allowing another website, which has a higher CTR, to get the #1 spot.
Time to click each keyword that interests you; this should bring on an image that looks like the one below.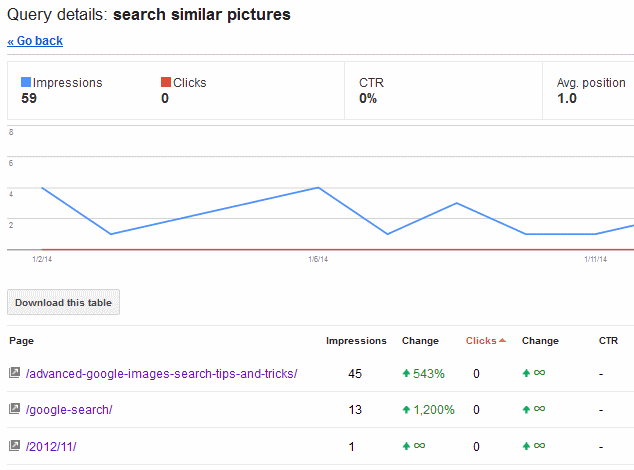 This particular keyword tells Google that I have got 3 website resources which are relevant for the "search similar pictures" query. I am not interested in ranking for this keyword, but if I wanted to rank for it, now it would be a great time to edit the page title and description because, as we all know, the visitors can only see these snippets of information when they're looking at a Google search results page.
It is quite easy to understand why a website page that has a low CTR will lose its good rankings, isn't it? Always try to meet the searchers' expectations by providing enticing page titles and descriptions, and then by fulfilling whatever promises you have made (and more) on the actual website page.
Important Tip: if the main landing page isn't the one that you have expected to rank for a particular keyword, your website might have been hit by a Google penalty, so check out the penalty recovery guide. The same thing happens if the structure of your site is really bad, with lots of duplicate pages, tags, etc, confusing Google and making it rank a less relevant page.
As a conclusion, the pages that rank fine but have a low CTR will lose their rankings if we don't set proper title and description tags and if we don't create meaty content that offers whatever we have promised in the article title and description.
For example, if our page title promises the business owners that they will learn how to double their customer base in 3 months for free, but then hits them with a promo video that pre-sells a $997 course, they will click the "Back" browser button right away, returning to Google's search results within 2-3 seconds, and thus telling it that our website isn't a good fit for that particular search query.
Imagine that 99% of your website visitors would do that each day; it's not hard to understand why your website would lose its good rankings soon.
Rankings Improvement Tactics
What about the pages that interest you, but can't be found on the first Google page for their targeted keywords? Google doesn't like to rank isolated pages; it prefers to rank content hubs instead, website pages that are supported (linked to) by lots of internal and external pages.
As an example, if you have a "seo tips" article and you'd like to see it on the first Google page, it's best to create many other articles that complement it and link to it, as well as attract as many high quality backlinks to it as possible. Find out how to create a virtual silo by reading how to build an authority website; this way, you can easily reinforce the authority of the targeted website page.
It is easy to pitch niche related webmasters if you have created a great resource. Simply get in touch with them, show them your work and ask for a link; some of them will agree to place a backlink to your resource. On the other hand, if your content is not exceptional, nobody will want to link to it and Google will not want to feature it on its first page.
The sad reality is that fewer and fewer people will take the time to link to your resources, even if you invest the needed energy and create remarkable content. So how do you improve rankings for keywords that aren't looking good, according to Google's Search Console, but are very important for you? The answer is simple: be unique. Create something of huge value; it's what the SEOs call a "linkable asset".
Infographics continue to work fine, provided that they include high quality, thoroughly researched data and are launched at the right moment. Controversial videos work even better. And who doesn't love a good, fact-based case study that teaches us something new? But the industry related, useful tools are some of the best linkable assets everyone could ever dream of.
You don't have to be a dreamer, though; just come up with a great idea, and then pay somebody to code it for you. If you sell shoes, you could ask a programmer to design an augmented reality application that allows your potential customers to test all the shoes in your store from the comfort of their home. Sure, it's a complex project that can cost a lot of money, but don't you think that this tool is guaranteed to attract not only the media's attention, but also lots of high quality inbound links?
It's important to try and think like Google if you want to rank high in Google. They have a thriving business, but all their credibility will vanish if they get the search results wrong too many times. Sure, their algorithm is far from being perfect, but they have a huge team of people that manually review the search results. The spammy sites can only rank for a few days in the highly competitive insurance niche, for example.
If your website doesn't stand out, it will not see the first page – it's as simple as that. This means that it is time to either invest into creating linkable assets that will add value to your online business, or start saving money for AdWords.