July 19, 2012
Posted by:

admin

Categories:

Lead Generation, Pay Per Click, SEO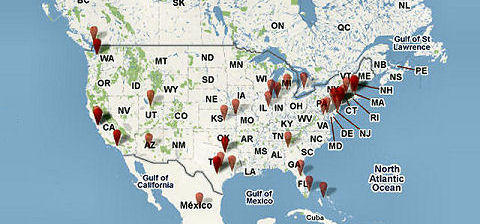 Getting to the first page of Google is a moment of joy that I share with my customers from the bottom of my heart. And since we aren't using any secret SEO techniques, you can head over to the buy seo services page and discover what we are doing in order to propel our customers to the top of Google. But I want you to see a larger picture today, because there are several ways to get your website to the first Google page.
1. Google AdWords
Use AdWords, Google's pay per click (PPC) network. If you work in a competitive industry, you are already familiar with the multitude of paid ads that appear when you do a simple Google search. Let's try "car insurance", for example – here's what I see using my internet connection in Missouri:

Those red blocks are ad blocks, and the average advertiser pays about $40 / click. In fact, there are several insurance keywords that can reach $100 / click, not to mention that there are industries where you would have to pay 200… 300 dollars for each visitor click.
And remember that we are talking about clicks here, not actual product or service purchases; you might spend money for 100 or 1,000 clicks without selling anything, and thus practically throw your money away. Still, since so many big insurance companies continue to use Google AdWords, it must give them a good return on their investment… at least that's what I hope!
OK, so with PPC we can reach the first page of Google easily, because we're actually paying for this position. It's an option that you might want to consider if you have the needed funds, because it will only take you a day to get to the top of your favorite search engine. You will still have to worry about "click bombers", though, people that are clicking your ads, and thus taking hard earned money from your pocket, without having any intention to buy whatever you are selling.
Yes, there are people that will do just that: click the ads with the intention to make you lose money. They may be your very competitors, they may be hired by your competitors, or maybe they just have plenty of time at their disposal and nothing better to do with it, who knows? There are a few systems that can limit the damage produced by the click bombers to a certain degree, but don't expect miracles.
2. Google News
The second way to get your site on the first page of Google is to appear in Google's news. I will assume that you didn't invent anything revolutionary this month, so how can your website get there? Basically, Google News aggregates news from a variety of sources algorithmically; if you can create viral content that spreads like fire, Google will probably include it in its "News" section.
Take a look at the picture below; it shows a viral press release campaign that we have run for one of our clients, and as you can see the news has spread across the U.S.A.; this made Google and Yahoo pick up the news instantly, attracting a lot of website visitors to my client's website.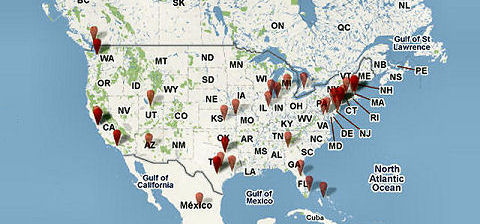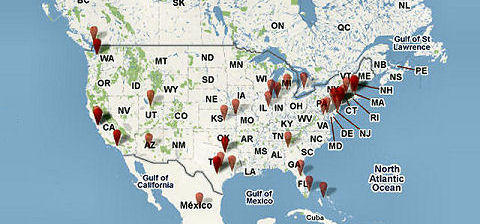 Still, this method involves a significant level of risk; your news might not be that newsworthy, so Google might not pick it up, thus depriving you of the sought after page 1 listing. And even if your news is picked up, it will only stay on the first Google page for a few hours, or maybe for an entire day, until it is replaced with fresher news.
Despite all of this, there is a solution that solves both problems that were highlighted above: you can create your own Google News site, a Google-approved website that has much greater chances to appear in the news, just below the paid ads on the first search results page. If this has got you excited, you should prepare for a lot of work: you will need to create hundreds of top quality articles in order to get your site approved, and then (in case that it is approved) you will have to continue to write about 5-10 pieces of fresh, interesting, newsworthy content each and every day.
I know it's a lot of work, but if you've got the budget you can outsource this, and then hopefully become the owner of an approved Google News site, a powerful five figure business asset that can also promote your newsworthy content from time to time, making it appear at the top of the search results.
3. Search Engine Optimization (SEO)
The last option that can put your website on the first Google page is my favorite: SEO, search engine optimization. Basically, your site has to become a source of authoritative content, and the people in your industry should recognize its authority status by linking to it, placing links to your website on their sites.
Becoming one of the best sources of information in your industry is not that complicated if you are a talented writer, or if you outsource the content creation task. One way or the other, you will have to post fresh content on a regular basis, offering precious information and then promoting it through your social media accounts. Think about it for a second: would you trust a car insurance company that hasn't updated its website since 2006, or one that has hundreds of pieces of useful content, posting fresh, insightful information each week? Google will always reward the authority sites, so if you want to get to the top of its search results make sure to include content creation in your activity list. But just having great content isn't enough; in fact, your great content is useless if the people don't know about it and (most of all) don't link to it.
I don't know about you, but when I'm trying to find an unbiased opinion about something, I usually visit Wikipedia. In fact, if I like a website page or a blog post a lot I will also put a link to it, just like this: Wikipedia's SEO page. As you can probably guess, I'm not the only one that considers Wikipedia to be an authoritative source of information, so there are many more links like the one above (using slightly different words, of course) that point to Wikipedia's SEO page.
The process of getting backlinks (the way Wikipedia does it in my example) is called off-page SEO and is crucial for the success of any SEO campaign; in fact, if you only concentrate on writing great content, I guarantee that you will not be able to get a first page Google rank for a competitive keyword, one that has the potential to lead to lots of sales. The good news is that there are various link building methods that continue to work fine even after the latest Google algorithm changes; if you want to do all the work by yourself, you will find many of them on the "buy seo services" page referenced above.
SEO Pros and Cons
So what are the drawbacks of SEO? First of all, you need to make sure that the SEO consultant you plan to hire is very knowledgeable and uses only white hat SEO techniques. And apart from that, since SEO isn't an instant process, you will need to wait for 2-3 months before seeing significant results. This means that you will have to invest some money without seeing a return on your investment for a few months. On the plus side, SEO will not only increase your sales, but it is also an investment that you are making in the future of your business; unlike PPC, you will continue to keep your good rankings, and thus receive a good number of targeted website visitors, even a few months after the end of the SEO campaign.
Getting on the first page of Google will not only increase your sales, but also your prestige; nothing beats the joy that you are going to feel when your website will appear at the top of the search results. Nevertheless, you should never forget that there are only 10 spots on the first page and hundreds of thousands (maybe millions) of people in your industry trying to get there. So what makes you special in comparison to them? Is your website content brilliant? Is the SEO company that you are using so skillful that it can persuade even the direct competitors to link back to your website?
Google doesn't have anything against the business owners that are trying to make a living online, but its declared goal is to offer the best, most relevant results through its search engine. The Google Panda algorithm update has devalued the websites with low quality content, while the Penguin update has devalued the sites with a less natural backlinking profile. These algorithm updates are rolled out on a regular basis, so the companies that are trying to game Google will have a hard time trying to do that from now on.
This means that creating low quality content and trying your luck with a fifty dollars "SEO packet" won't get you to the first Google page; in fact, it can affect your website permanently, making it move outside Google's top 100. It's all about being an authoritative source of high quality information that grows in popularity from now on.
Fortunately, you can hire a good SEO company to help you get great content and / or high quality backlinks coming from industry-related, authoritative sources. The speed with which you can get to the first Google page will depend on the difficulty of the chosen keywords, your SEO budget and the skills of the company that you have hired to do the search engine optimization work.