The recent Google updates (mostly the Penguin update) have made many SEO consultants say that search engine optimization is dead for good. And I will have to admit that this is true to a certain degree; some of the most effective black hat and grey hat SEO techniques are dead now and will never work again. Sadly, even a few 100% white hat SEOs were affected by the recent updates; nevertheless, no matter if you want to try and recover the lost rankings or to promote your website without ever having to fear any penalties, read this article and you are going to be all set.
I know I'm making a bold statement here, but my plan is to tell you mostly what NOT to do, rather than teach you what SEO methods continue to work fine at this point in time (don't worry, I'll cover that as well). An ancient Chinese proverb – or maybe it was my grandfather, can't remember this exactly – says that only a fool would repeat the same steps that have led to disaster hoping that he will achieve something different this time. Translated to SEO, this means that if your website was penalized, you should stop utilizing the website promotion methods that you have used until now.
Finding out if Your Website is Penalized
But how can you tell if your website was penalized in the first place? Open a Google Webmaster Tools account, log into it, add your website, and then check the Messages tab; "You have no messages" means that your website wasn't penalized.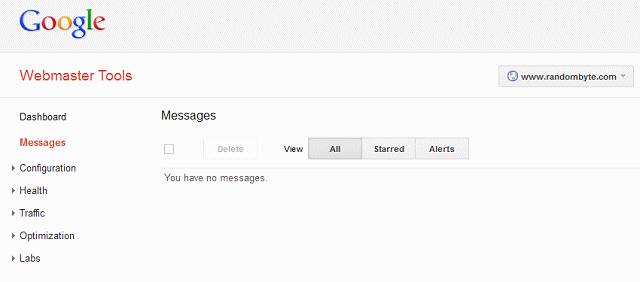 I know, some of you might be saying "George, but how can you say that my website wasn't penalized, when I was ranking #1, and now I'm not even in Google's top 100?".
The answer to this question is simple: Google's team didn't take direct action against your website, penalizing it – their search algorithm did it, and this is a much better situation, because if you fix the problems, the rankings will return to what they were. Still, if you can't fix the current issues because they are out of your control (getting rid of those spammy blog comments and blog network backlinks can be impossible sometimes) or if your website has gotten a manual penalty, it might be wiser to purchase a new domain and start over. This piece of advice comes straight from Google, so don't ignore it!
By the way, if your website got deindexed you will need to start over for sure; just type in site:your-site-name-here.com into Google's search box and if you don't see any results, your website was deindexed, removed from Google's index. Fortunately, this only happens if your website participates in nasty link building schemes, etc.
Allow me to restate what I have mentioned at the beginning of this article: if your website was hit, forget what other SEO specialists say and stop doing whatever you are doing in order to promote it – can't you see that it doesn't work anymore? If your website was hit by Penguin and you keep building the same types of links to it, you are only making the situation worse. The only two activities that I can recommend in this case is to continue to write 100% unique, high quality blog posts and to try and build a few  (not many!) high quality backlinks from reputable websites through guest blogging, etc.
Future-Proofing Your Website
So what can you do in order to future-proof your website? Google has stated that it doesn't give too much weight to the following few factors for now, buy my tests show something else.
If you have a Webmaster Tools account, you already know that Google displays the number of impressions and the number of clicks that your website has gotten. Let's pretend that website A is ranked #1 in Google for a specific keyword, has appeared 10,000 times in Google's search results and only 100 people have clicked its link – that would be a 1% click-through rate. But let's assume that the competitor website B is ranked #2, has gotten 5,000 impressions and 1,000 clicks – that's a 20% click-through rate. Now which one of these sites should deserve to be ranked higher? I'd say that site B, because it is chosen by many more people when compared to website A.
Since the stats tell that the website ranked #1 should get about 40% from the total number of clicks, it is quite obvious that there's something wrong with site A. And if your website can't get the expected, high click-through rate, its rankings will suffer for sure. Let's consider a practical example; we are searching for "great games for kids" and the #1 result looks like this.

I have gotten this result by typing another phrase into Google's search box, of course. Now why wouldn't this result get a big click-through rate when we're doing a "great games for kids" search?
1. The title isn't related to what we are searching. If you are offering great games for kids, you'd better include "Great Games for Kids" in the title of your page.
2. The URL of the website should also reassure the potential website visitors that they have discovered the right site. Under these circumstances, if the visitors are searching for "online watch shop", having the onlinewatchshop.com domain will definitely be of great help; nevertheless, even an URL like onestopwatches.com/online-watch-shop will do the job.
I see that many people want to build an online brand prematurely; I don't have anything against that if you have a huge marketing budget, but if you run a small business, consider building your online presence around a keyword-rich domain, instead of using something like my-fantastic-brand-name.com for your URL.
3. The third element is the website description; it's your only chance to catch your potential customers' attention using 150 characters or less. If you sell watches online, having a description like "Website of My Fantastic and yet little known Brand Name" is going to kill your click-through rate for sure. It is much better to use this space wisely, telling the people why they should click your website link, instead of choosing the ones above or below you.
Fixing Your Website's Bounce Rate
Now that we are done with the click-through rate factor, let's move on to the following parameter: the bounce rate. Once again, Google states that it doesn't affect the search results positions for now, but my tests paint a completely different picture. Use a free website tracking tool (Google Analytics, for example) to get access to the bounce rate values.

The bounce rate measures how many people have clicked your website link in the search results page, and then have pressed the "Back" button on their browsers, returning to Google's search results. As you can probably guess, this ratio has the potential to be a huge ranking factor, because Google will be able to tell if your website is relevant for the searchers or not.
Let's assume that 100 people visit website A, but bounce back after 2 seconds because they didn't find what they were looking for, while another set of 100 people visit website B and stay there for 5 minutes. Which one of these websites would Google consider to be more relevant for that particular search keyword? Since Google now analyzes huge amounts of data across many verticals, if your website's bounce rate exceeds the standard values it is going to lose its good rankings.
Time Spent on Your Site
How many seconds or minutes do the visitors spend on your website? If they only scan its content for a few seconds and then move away, you will be triggering Google's sensors for sure. Having meaty information that keeps the readers engaged for as many minutes as possible is crucial since last year's Panda update.
The longer your visitors stay on the website, the better; this tells Google that your content is interesting.  In fact, if you can get the visitors to stay for 5 or even 10 minutes on your site, it really doesn't matter if they bounce back afterwards – Google will understand that they have found what they were looking for on your website, because they have spent so much time reading its content.
Make sure to link to other interesting web pages on your site, add videos, streaming audios, and so on; do whatever you can to keep the website visitors on your site for as long as possible – this will turn your website into an authoritative source o information.
Getting Rid of Website Ads
We looked at a few on-page factors that can influence the rankings already: the page title, the URL and the description tag. What else can we change on our site in order to keep it safe from penalties, regardless of the search engines' future algorithm changes?
 One of the smartest things that you can do is to get rid of all the ads on your website pages. Sure, if the very purpose of the website is to bring in revenue by displaying ads, feel free to keep them; nevertheless, I will assume that whenever your site gets penalized, you just throw it away and start from scratch using a new domain.
I don't have anything against this online income model (I used it in the past as well) but don't treat your online business, the site that is dear to you like a family member, in a similar way. OK, I might have exaggerated a bit with the "family member" part, but if your website is your main income source, it should also be the online equivalent of your business card. If you have an online business that is supposed to rank well and attract clients, make sure to remove the ads from your website, thus letting Google know that you aren't competing against it and maximizing your chances to avoid future rank losses.
Having Meaty Content
I have mentioned that the amount of time that the people are spending on your site plays a big role; this means that your website pages should have a lot of meaty content and not just 100 words blurbs. I write 1000+ words articles for my websites; sure, this means that I have to spend a lot of time doing research and writing the content, but in the post-Panda era I would trade 4 x 300 words articles for a single 1,200 words article any day of the week. This doesn't mean that you can't post a 200 words announcement on your website once in a while – just don't let that turn into a habit.
Do your website pages include keyword-stuffed content? Back in the day, a 4-5% keyword density was the recipe for success; nowadays, the same keyword density is the recipe for disaster. If you want to create a rock-solid website, you should forget about keyword densities; don't go for 2% or 1% or even 0.5% because Google is now smart enough to figure out what your website pages are about by itself.
If you want to be found online, the page title, the URL and the description tag should include the targeted keyword, as mentioned earlier, but please stop writing content for search engines (forget about latent semantic indexing, etc) and concentrate on humans – they are the ones that have a great influence on the search engines' results these days. Ideally, your website content should be unique, error-free, informative and easy to read even by a 12 years old child, so let's keep the neologisms at bay whenever it is possible, please.
I created the perfect on-page optimization formula several years ago and it has worked fine, using laser-precision keyword positioning, H1, H2, H3 tags, highly optimized images, and so on. My formula continues to work great even after the Penguin update, but I have dumped it for good because I don't want my websites to be affected by a future search engine algorithm update. Be smart and do the same thing today – try to please the humans, not the computers!
Check Your Outbound Links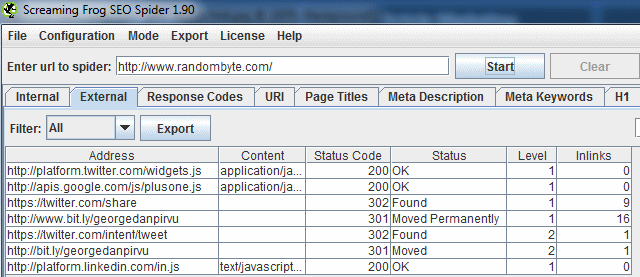 Another important on-page factor that has led to site penalties or even deindexation has to do with the outbound links, the backlinks that you are creating to other people's websites. Does your website link to bad neighborhoods? Sure, you might have linked to your aunt's donut shop five years ago, but since she has closed her business last year, the domain was bought by a spammer and thus you are now linking to a bad site. Need a quick tool to check your website's outbound links? The free version of Screaming Frog's SEO Spider will do the job perfectly for most small and medium sized websites.
Having a small number of outbound links is a wise decision, but having no outbound links at all could look suspicious; Google might think that you want to keep all the link juice for yourself. Since huge websites like Wikipedia, CNN, etc, link out to other authoritative sites whenever it is needed, it is wise to do the same thing yourself.
Off-page Ranking / Penalty Factors
What about the off-page factors? Is there anything that can be done outside our websites to either help them rank better or to get them penalized? As you probably know, Google continues to be the most important search engine in the world and its ranking patent is based on backlinks, votes given by other people that link back to your website. This tells me that the backlinks will remain a huge ranking factor for many years from now on, at least when it comes to Google.
Negative SEO, the ability to kill other people's rankings by building bad backlinks to their websites, has worked for a long time; unfortunately, the Penguin update has made it much easier / cheaper. There are now quite a few individuals selling effective negative SEO services; some of these guys can destroy your good rankings by simply building lots of backlinks to your site using penalized blog networks, for example.
Fortunately, Google is aware of this problem and is trying to patch the loophole as we speak. And if you aren't a huge corporation, chances are nobody is going to risk attacking your online business. It is sad, but some website owners apply negative SEO techniques on themselves without even knowing it; they buy and use automated tools that build backlinks from spammy neighborhoods, and having a handful of bad links like these could destroy your site for good.
Let us presume that you aren't a victim of a negative SEO attack, though, so let's take a look at the bad things that either you or a careless SEO company has done to your website. The most obvious factor is the total number of backlinks that point to your website. Let's assume that your newly launched website is visited by 300 people each month; do you think that it would be natural for a site like this to get 1,000 fresh backlinks in a month? This would mean that each and every one of those visitors would be so thrilled to have discovered your site that it would post more than 3 links to it. What are the odds of this happening naturally?
I am a backlink builder myself and I keep building backlinks for all my clients, but rather than using automated tools to create hundreds or thousands of spammy backlinks each month, I am creating tens of high quality, industry-related, contextual backlinks from authority websites that actually send visitors back to my clients' sites – this is the only recipe for success that is guaranteed to work from now on.
If your website is an authority in its industry, its backlinking profile should include all sorts of links coming from various websites (blogs, social media sites, online directories, etc) around the entire globe. Having only a few types of links that come from only a few websites is an alarm signal that should be treated seriously.
Get Backlinks with Natural, Credible Anchor Text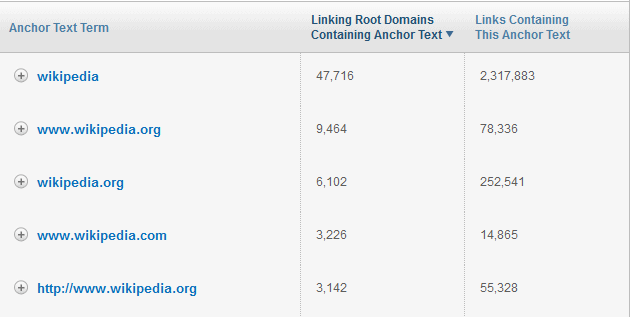 Is the anchor text, the actual text that the people are using to link back to your site, as diverse as possible? Back in the day, if you wanted to rank #1 for "cheap watches online", creating as many backlinks as possible to your site using the desired anchored text was the most effective way of achieving this. May SEOs (including the 100% white hat ones) have built links this way for years, only to discover that the Penguin has destroyed their websites because of that.
The moral of the story is simple: avoid over-optimizing the anchor text. Study the big sites in your industry, the ones that get #1 ranks for hugely competitive keywords; you will discover that the anchor text for most of their links doesn't have anything in common with those keywords. Take Wikipedia for example; it ranks for millions of keywords without even trying, so let's take a good look at its top 5 anchor texts.
Do you see any "Advertising", "SEO", "QR code" or other similar phrases here? And yet Wikipedia has got the top spots for all these keywords and many more. If you're only going to remember a few words from this long article, make sure they're from the following paragraph.
Crucial SEO / Link Building Tip
My tests show that Google is now able to determine what your site is about and what keywords it should rank for depending on:
a) Its content;
b) The content of the website pages that link back to you, not necessarily the anchor text that they are using for the backlinks.
This is a huge game changer, because it allows the popular sites to get top rankings without trying to manipulate the search engines, based on the authority of the websites that link to them. As an example, getting a backlink from Wikipedia to one of your website pages will help that page rank better for its targeted keyword, regardless of the anchor text that the Wikipedia link is using, because that Wikipedia link will come from a relevant page.
As a conclusion, if you are trying to get a good rank for online watches, keep the links that use "online watches" as their anchor texts to less than 10% – I am sure that the established websites have an ever lower exact match anchor text percentage. Use the website URL, brand name, brand name + targeted keywords, empty anchor text, generic anchor text like "click here" and so on for the other 90%. There are several online tools that will help you evaluate the backlinks profile of any website; Ahrefs and Open Site Explorer are two good examples.
Getting the Most Effective Backlinks
So what type of backlinks work fine these days? The answer is simple: the ones that are very hard to get! Lots of SEO experts talk about the huge impact that the social media backlinks carry nowadays; still, even though the social media links will help you rank fast for less competitive keywords, their effect will diminish after a few days.
The solution is to use a combination of 100% ethical SEO techniques; you can discover what we are using for our clients on the buy seo services page. If you are interested in purchasing SEO services, make sure to work with a team that only builds backlinks you would never be ashamed to show to anyone, including a Google representative.
Did SEO die a sudden death? The answer is a sound NO! Search engine optimization will continue to work for as long as there will be organic search results. Sure, the SEO consultants have to work harder since the latest Google search algorithm updates, but this is what they (and myself) are supposed to do for a living, isn't it?
Did you like this article? If the answer is affirmative, please share the love using one of the social media sharing buttons below.