January 26, 2013
Posted by:

admin

Categories:

Google My Business, Google Plus, Lead Generation, Marketing and Sales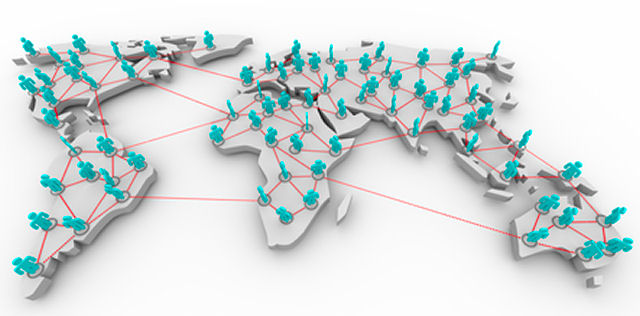 It looks like most popular social networks are meant to have a short lifespan. I can still remember the times when Myspace or hi5 were the big players in the field, and now their popularity has considerably diminished. And with so many options to choose from, there is no wonder that people are bouncing from one social network to the other, trying to discover the one and only social website that will fit their needs perfectly.
The small social networking sites might come and go, but at the other side of the spectrum there are the big players who have lots of money to invest into their projects and are willing to wait for years before seeing any profit. Right now we are witnessing a fierce battle that takes place between Facebook and Google, with each competitor trying to invent new, useful things or at the very least trying to copy some of the competitor's top features and wrap them in a better package.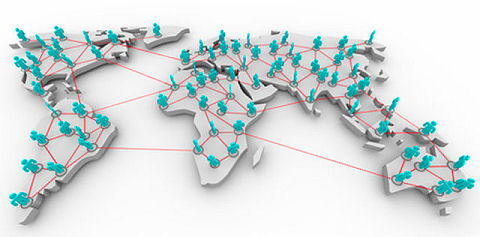 Many people remember that Facebook was the place to visit whenever you wanted to get in touch with your old friends, while the much younger Google+ wanted to do the things differently, allowing you to separate your friends and relatives from your business partners right off the bat.
Sure, Facebook patched this flaw a while ago, and with the recent Social Graph it threatens Google+ once again, but my personal (and probably biased) opinion is that Google Plus is a much better social network for business owners. So let's dive right in and discover how we can use our Google Plus accounts for business at their maximum potential.
Google+ is a conglomerate of high quality services. As an example, Gmail offers a free, fantastic email account with several useful options that can't be found in the other free email services: auto-responders, advanced filtering options, and so on. And Google does its best to try and keep you on Google+ for as long as possible, incorporating Gmail into it and giving you a centralized dashboard that helps you connect with customers and colleagues.
Also, let's not forget about +1, a simple way of giving your website visitors the possibility to recommend your site to others and (most of all) to the world's biggest search engine. I guarantee that Google+ and Google's search engine are going to intertwine even more in the future, so if you are interested in having good search engine rankings, you'd better start using Google Plus as soon as possible.
Setting up your Google+ account
Creating a Google account is a very straightforward process; in fact, if you have a Gmail account, you've got a Google account already. Then, you should navigate to:
and sign up for Google+. Make sure to keep the notifications turned on for a while, until you get used to the system; otherwise, you might lose some important info.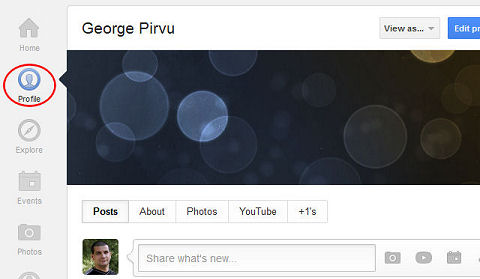 Start by editing your Google Plus profile; the "About" section is the perfect place to tell others about your business. If you have a website and you post content to it on a regular basis (you should definitely do that!) use the "About" section of your Google+ profile to fill in the "Contributor to" section with your Google Authorship link. Feel free to add as many links as needed, in case that you are a regular contributor to several websites.
Navigate to https://plus.google.com/authorship to learn more about this important feature, which connects the content that's published on your blog to your Google+ profile, thus helping you build credibility and authority.
While being here, don't forget to add the "Links" to your website(s); they are dofollow at the moment (this might change in the future) and we are definitely interested in getting a link from Google itself, in order to boost our rankings in Google's search engine, right? Be sure to include links to your other social media accounts as well; your Twitter, LinkedIn and Facebook links would work perfectly here.
You should also add photos of you, your products, pictures taken at company events, relevant YouTube videos, etc. It's a simple, inexpensive way of telling others what your company is doing and how great you are at doing it. Finally, the "+1's" tab will show you the websites that have received a +1 vote from your Google account.
Google+ Circles
Google Plus has revolutionized social media with the invention of its "Circles" feature. For the first time ever, business owners were able to send mass messages to their employees, for example, without having to fear that the same message will reach their friend's inboxes.

Choose the "Circles" option in the vertical menu, and then add as many people as you want to the "Drop here to create a new circle" area; you will be given the opportunity to name the new circle the way you want it, of course. You can add any contact to any circle; as an example, you could add John Doe not only to the "Potential Customers" circle, but also to the "Leads from Mary" circle.
Google Plus allows you to control the way in which the people in your circles see your profile. Maybe you want your friends and relatives to have access to your home phone number, but you wouldn't want an angry customer to call you at home. Google is committed to respecting your privacy, and all you need to do is to choose the proper "View as…" option at the top of the page.

Don't ignore the power of circles! For example, it is possible to create a dedicated circle for your associates and another one for your spouse; this way, you will be able to stay in contact with everyone without having to leave Google Plus. If you used to keep separate lists with new customers, repeat customers, leads, etc, you can dump those lists for good and manage everything from within separate circles, thus saving a lot of time.
The "Home" section will allow you to see information streams coming from your circles, just like you see it on Twitter, Facebook and LinkedIn; a simple click on the "Friends", "Family", etc buttons will filter the information, displaying only the news that are coming from your potential business partners, for example.
What happens when you want to post a message? The same principles highlighted above apply; a click on the "Business Contacts" button will help you send messages that are only addressed to your business contacts.
As you can see, unlike many other social networks, Google+ really keeps your things private without you having to go through complicated options in order to set the things up properly. If you have sent an "I hate my job!" message to your family, rest assured that your customers will not be able to see it.
The messages can include photos, videos, events and links, so all the key aspects are covered nicely. The videos can be uploaded straight into Google+ or they can be taken from YouTube, no matter if we are talking about your own YouTube videos or other people's videos.
Google+ Tools

What about instant messaging and voice chat? Fortunately, Google+ has these features built in, so you won't have to install any additional software. Just move your mouse towards the right side of the screen, enable chats, and then choose the person you would like to discuss with – that's all! Click your name to set the status, change settings or sign out of chat completely. It has never been easier to connect with your customers, especially if they have a Google Plus account.
I am sure that you have noticed the "Start a hangout" button in the picture as well; a hangout is basically a private, virtual chat room, and this makes it perfect for a company meeting, a webinar, etc. You might need to install Google's Voice and Video Chat plug-in in order to make this work; don't worry, it's a painless process and you will only have to do it once. And since you will be able to stream audio and video, you can connect with your business partners from anywhere in the world, provided that you have access to a decent internet connection.

The "Explore" tab will help you discover "what's hot and recommended" according to Google. Of course, you can always use the search box at the top of the screen to discover news that interests you. If you go that route, make sure to use the pause button whenever you see something interesting – this way, you will be able to read an entire story without having to scroll up and down through the news.
Google+ Communities
What about "Communities"? They are nothing more than groups of people that share mutual interests. The community members have the ability to post images and videos, plan events and even chat with each other using a Hangout.
Starting (or joining) a community is a simple, effective way of networking with potential business partners and customers. As an example, if you sell dog related products, you can search Google Plus' communities, joining the ones that were created by dog lovers.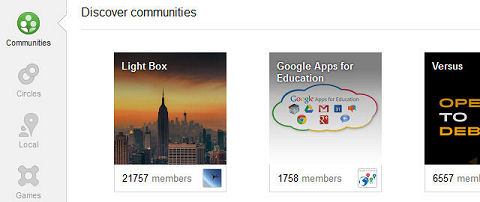 A very important section of Google+ is the "Local" page; in fact, Google+ Local has replaced the old Google Places. If you have a local business, you need to create a Google+ Local page, thus allowing anyone to discover your business and (hopefully) use its services and write a great review about it.
Fortunately, I wrote a detailed article about Google+ Local and what you need to do about Ranking High in Google Local Business Results. If you are a business owner, make sure to read this article as well – you'll thank me later! In fact, if you liked this article, you can thank me right away by clicking one of the social sharing buttons below.
It looks like Google+ is here to stay, and Google has enough money to fine tune it and keep it running forever. If you have an online business, having a strong presence on Google+ is mandatory.
To summarize, Google Plus is about connecting with the right audience, promoting your business properly and selling your products or services to targeted customers. Many companies charge a lot of money for tools that don't come even close to Google's free offer. If you want to run your business efficiently, make sure to open a Google Plus account for business today.