The recent changes in the SEO world have worried a lot of people. Things that used to work well in the past are not reliable today, and since Google is constantly changing its search algorithm, more and more SEO consultants feel that they are trying to hit a moving target while being blindfolded.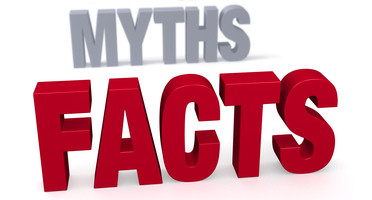 You don't have to be a genius to understand that this is exactly what Google wants. The fewer people understand how their search algorithm works, the better. And believe it or not, while this approach will discourage many SEOs, it has the potential to help the actual search engine users, offering them relevant results.
With all this turmoil, lots of myths are spreading like fire, frightening not only SEO companies, but also regular website owners. Read on to discover some of the most common SEO myths and facts, as well as get several useful tips that will help improve your website visibility in all the search engines.
1. The "Duplicate Content Penalty" Myth
What is duplicate content in the first place? It's content that can be found on several sites on the web. Think at a press release or a news article that is posted by thousands of different websites. Is that a bad thing? Surely not! You can post other people's content on your website without getting any penalty, as long as you have the author's permission to do that.
You want to avoid having duplicate content on your own website, though. As an example, you shouldn't post the same article twice on your blog. In fact, it's best to avoid posting similar articles on your blog. Don't write articles that rehash info from your old blog posts, publishing them on your site. And even if you sell the same products or services in several cities, do your best to have pages with different content for each city.
Here's a link that will help you learn more about duplicate content straight from Google.
2. The "Website Submissions Help" Myth
Many SEO companies have made (and continue to make) a lot of money by offering website submission packages to their clients. Basically, you pay them a hefty sum of money, and then they submit your website URL to dozens or even hundreds of search engines.
It may sound like a good plan, but website submissions are useless. The main search engines will discover your website by themselves; you don't need to use their website submission forms. And if you want to accelerate the process, you can download the free Power Indexer Pro application which can be found in the Free Tools section of the website.
3. The "Directory Links Are Dead" Myth
Most SEOs will tell you that directory links are dead these days, but nothing could be farther away from the truth. It is true that you shouldn't submit your website to low quality directories, but a link from an industry-related, high PR directory will continue to boost your search engine rankings.
As an added bonus, the same link has the potential to send visitors to your site, improving your website traffic. Don't forget to check out the How to Boost Website Traffic article if you want to learn how to easily, and yet significantly boost your website's traffic level.
4. The "Backlinks Beat Content" Myth
Backlinks used to be much more important than the actual website content. As an example, you could rank an empty website page #1 in Google by pointing lots of high PR links to that particular page.
The things have started to change lately, though. Sure, backlinks continue to play an important part, but the search engines now also measure how much time a website visitor spends on your site, for example. If that amount of time is very small, the search engines will move your website page down in their search results, even if it has lots of backlinks, because they understand that the page doesn't provide useful information for the visitors – otherwise, they'd stay much longer on your site.
Also, the days of keyword stuffing are over. Having great, useful, engaging content, high quality backlinks and lots of social media signals is the recipe for success from now on. And if you don't know how to quickly create fantastic content, feel free to check out the How to Write Great Website Content article.
5. The "More Backlinks are Always Better" Myth
The unnatural links problem was so severe that Google had to integrate a dedicated algorithm (Penguin) into its search engine formula. Too many people were building hundreds (sometimes even thousands!) of backlinks to their website on a daily basis, in an effort to rank them to the top of Google as quickly as possible.
These days you need to focus your energy on getting a few high quality backlinks, rather than getting lots of low quality links. In fact, I have several websites that keep climbing up in the search results without me building any links to them; my competitors are probably building low quality backlinks to their websites, and this pushes them down in Google's search results.
6. The "Social Media Is Useless" Myth
Several studies have shown that getting social media mentions doesn't necessarily improve your website rankings, at least for now. Nevertheless, by sharing your content through social media, you are increasing your chances of getting a niche-related backlink, especially if your friends or followers work in the same niche.
Obvious hint: try to attract friends or followers that work in the same industry. When it comes to social media, Facebook, Twitter, Google+, LinkedIn and Pinterest should be at the top of your list.
7. The "SEO Can Be Done Later" Myth
I'm not trying to sell you any SEO services here, but the reality is that you should take SEO into account right from the start. If you plan to create a new website, you should do proper keyword research first. Then, you should properly structure your pages, so that you can get the best rankings without having to spend any money on SEO.
Setting up a blog and posting to it on a regular basis is vital; this will help attract more and more website visitors, as you start ranking for more and more long tail keywords. It's OK to start a paid SEO campaign later on, but don't forget that a poorly designed website, with redundant pages and duplicate content, will hurt your online marketing efforts for sure.
8. The "Guaranteed Rankings" Myth
No SEO company in the world can guarantee top 3 or even first page rankings. Sure, it could happen, but nobody can guarantee that.
In fact, I have lately noticed a trend, with more and more SEO companies pretending to offer guaranteed rankings, when they are actually guaranteeing that your site will appear in Google's top 30 or even top 50. The simple truth is that this "guarantee" will only boost your ego, and not your sales. And if an SEO consultant has found a loophole that gets you to the top of Google fast, rest assured that your website will not stay there forever; when it will be caught, it will be penalized, so it won't even be found in Google's top 100 results.
So how do you find an honest SEO company? Try to work with people that are actually adding value to your website, rather than creating a bunch of links from more or less relevant sources. If all they promise are 100 or 1,000 links from forums, blogs, and so on, you don't need their services. On the other hand, if the SEO company can help improve your website visibility by creating value (videos, blog posts, reports, various tools, infographics, etc) then you might have found a great company to work with.
9. The "One Time SEO Campaign" Myth
Will a one time SEO campaign help boost your website rankings? It surely will, but its results will not last for long. Google will always reward the most popular websites, giving the ones that are promoted on a regular basis much better rankings in its search engine.
The zero cost alternative is to take care of the SEO promotion yourself, by creating and adding new content to your website on a regular basis, writing guest posts for other industry-related websites, commenting on niche-related blogs, and so on. Sure, this takes a lot of time, but you have to spend either time or money if you are interested in growing your online business.
10. The "Google AdWords Campaigns Boost SEO Rankings" Myth
Way too many people believe that by investing money into a Google AdWords campaign, they are improving their website rankings as well. Google has stated repeatedly that there aren't any connections between Google AdWords and Google Search, and I tend to believe them.
Think about it for a second: if your organic rankings improved while running an AdWords campaign, fewer and fewer people would click your paid ad, right? This means that Google's own actions would make it diminish its revenue, and I don't think that this will ever happen.
11. The "Nofollow Links Are Useless" Myth
According to Google, the nofollow links are the best ones for your site, because they don't pass PageRank (read "they don't improve your rankings"). But the truth is that even no-follow links can help you rank better.
More than that, since Google loves nofollow links, it would be a huge mistake to avoid using them. First of all, they create a natural looking backlinks profile and, as mentioned above, they will actually help improve your website rankings.
The moral of the story is simple: stop chasing dofollow backlinks. If a link comes from an industry-related, authoritative website, I'll take it anytime, no matter if it is dofollow or nofollow.
12. The "Linking to Other Sites Can Affect Your Rankings" Myth
Believe it or not, there is some truth in this myth. If your website links out to dangerous neighborhoods (think spyware, viruses, adult sites, etc), it can be penalized. This means that you should check your website's outbound links on a regular basis; you may never know who has recently bought that nice site you were linking to, turning it into something else.
These things being said, you can (and you should) link out to other industry-related websites when, by doing this, you add value to your blog posts. Your website visitors will thank you for that.
13. The "I Need a Mobile Website" Myth
Having a mobile website is overkill; you need to maintain two different websites, you need to promote and build backlinks to two different websites, and so on.
What you need is a responsive website, one that will offer the best user experience no matter if it is viewed using a desktop computer or the 3.5 inches screen of a smartphone. The number of mobile devices is constantly increasing, so Google will always reward the responsive websites with higher rankings.
14. The "I Can do SEO by Myself" Myth
If you work in a less competitive industry, you might get away with that. But if there is enough money to be made in your niche, chances are your competitors are already using the services of a qualified SEO consultant.
There is a lot of work to be done, and since Google's search formula is constantly evolving, you will need to dedicate at least a few hours a day to SEO, trying to keep up with the latest search engine algorithm updates.
Actually, if you are a small business owner, it pays to learn the basics of search engine optimization; this way, you will be able to evaluate the amount of work that is needed in order to promote your website, and maybe even find the time to do all the work by yourself.
On the other hand, if you'd rather spend time growing your business, instead of creating content, editing videos, finding link targets, and so on, you should use the services offered by an SEO company.
These are some of the most common SEO myths and facts. Now that you went through them all, it will (hopefully) be easier to concentrate your efforts on things that actually work, rather than spending your time working at (or worrying about) useless things.